Dr. Mike Hansen pointed out this systematic reviews and meta-analyses of randomised controlled trials. This included 73 meta-analyses and 83 health outcomes from 8601 unique articles, including 74 unique outcomes in meta-analyses of observational studies and nine unique outcomes in meta-analyses of randomised controlled trials. The results: Significant harmful associations between dietary sugar consumption and 18 endocrine/metabolic outcomes, 10 cardiovascular outcomes, seven cancer outcomes, and 10 other outcomes (neuropsychiatric, dental, hepatic, osteal, and allergic) were detected. Moderate quality evidence suggested that the highest versus lowest dietary sugar consumption was associated with increased body weight (sugar sweetened beverages) (class IV evidence) and ectopic fatty accumulation (added sugars) (class IV evidence). High dietary sugar consumption is generally more harmful than beneficial for health, especially in cardiometabolic disease. Reducing the consumption of free sugars or added sugars to below 25 g/day (approximately 6 teaspoons/day) and limiting the consumption of sugar sweetened beverages to less than one serving/week (approximately 200-355 mL/week) are recommended to reduce the adverse effect of sugars on health.
Dr. Hansen goes on to point out the sugar consumption overwhelms the body which shuttles it to the liver which causes a high and fast insulin response from the pancreas. Do this over and over again, then one becomes insulin resistant, leading to type 2 diabetes and many other diseases that end up shortening your lifespan and causing you to feel run down. There are many types of cancer that are more likely to occur if one is insulin-resistant.
Sugar in liquids (soda and fruit juice) is the most dangerous.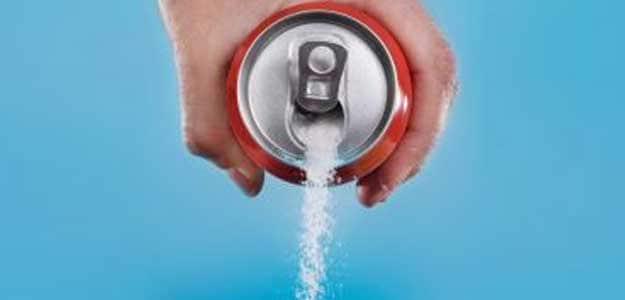 Sugar is considered an addiction because it meet the DSM-5 criteria for addiction.
The list of sugar-related ills include:
type 2 diabetes
obesity
hypertension (high blood pressure)
stroke
gout
cancer
asthma
tooth decay
depression
early death
Dr. Hansen also shows the many forms and names that sugar (sucrose) can take:
Agave
Barley malt
Brown sugar
Cane juice/evaporated cane juice
Cane sugar
Cane syrup
Corn sweetener
Corn syrup
Corn syrup solids
Dextrose
Fructose
Fruit juice concentrates (for example, apple juice concentrate)
Fruit nectars
Glucose
High fructose corn syrup
Honey
Invert sugar
Lactose
Malt sugar
Malt syrup
Maltose
Molasses
Raw sugar
Sucrose
Syrup
Trehalose
Turbinado
Currently, the number one source of added sugars in the American diet is beverages. Those that contain added sugars include:
Energy drinks
Flavored milk
Fruit-flavored drinks that are not 100% fruit juice
Iced tea
Lemonade
Soda/pop
Sports drinks
Added sugars are also found in many other foods, some of which may come as a surprise because they tend to not be considered sweet. These include (but are not limited to):
Breakfast cereals
Breads
Canned beans
Canned fruit
Condiments such as ketchup, barbecue sauce, and salad dressings
Granola
Meal replacement drinks
Pasta sauces
Protein, health, and granola bars
Salad dressings
Soups
Yogurt
Dr. Hansen's advice on cutting down on sugar consumption.