Chronic inflammation is central to the seven pillars of ageing.
From the Cleveland Clinic:
The most common reasons for chronic inflammation include:
Autoimmune disorders, such as lupus, where your body attacks healthy tissue.
Exposure to toxins, like pollution or industrial chemicals.
Untreated acute inflammation, such as from an infection or injury.
Some lifestyle factors also contribute to inflammation in the body. You may be more likely to develop chronic inflammation if you:
Drink alcohol in excess.
Have a high body mass index (BMI) that falls within the ranges for obesity, unless that is a result of being very muscular.
Exercise at your maximum intensity too frequently, or you don't exercise enough.
Experience chronic stress.
From Scripps Clinic:
You can control — and even reverse — inflammation through a healthy, anti-inflammatory diet and lifestyle. People with a family history of health problems, such as heart disease or colon cancer, should talk to their physicians about lifestyle changes that support preventing disease by reducing inflammation.
Chronic inflammation compromises the blood-brain barrier.
Follow these six tips for reducing inflammation in your body:
Load up on anti-inflammatory foods
Your food choices are just as important as the medications and supplements you may be taking for overall health since they can protect against inflammation. "Making good choices in our diet to include fresh vegetables and fruits as well as reducing refined sugar intake can make a big difference," Dr. Pitis says.
Dietary interventions, especially Mediterranean diets, may be preventative measures for Alzheimer's disease by reversing neuroinflammation, modifying the intestinal and blood–brain barrier (BBB), and addressing gut dysbiosis. Conversely, the consumption of Western diets intensifies the progression of Alzheimer's disease through genetic alterations, impaired barrier function, and chronic inflammation.
Eat more fruits and vegetables and foods containing omega-3 fatty acids. Some of the best sources of omega-3s are cold water fish, such as salmon and tuna, and tofu, walnuts, flax seeds and soybeans.
Other anti-inflammatory foods include grapes, celery, blueberries, garlic, olive oil, tea and some spices (ginger, rosemary and turmeric). Turmeric is heavily consumed in rural India, which may be the reason for low rates of AD there.
Anatabine, an alkaloid present in plants of the Solanaceae family has been shown to ameliorate chronic inflammatory conditions in mouse models, such as Alzheimer's disease, Hashimoto's thyroiditis, multiple sclerosis, and intestinal inflammation. Anatabine ameliorates intestinal inflammation and reduces the production of pro-inflammatory factors in mice. Anatabine is found in plants of the Solanacea family, which includes tobacco, peppers, tomato, and eggplant.
More information from the Cleveland Clinic: Research shows that consuming too much added sugar leads to chronic inflammation.
Examples of added sugars
The obvious: cookies, candies and some cereals. Watch for undercover culprits, including:
Breads.
Crackers.
Granola bars.
Salad dressings.
Processed meats have been salted, cured, fermented or smoked for flavor or preservation purposes. Research shows both processed and red meats are high in saturated fat, which causes inflammation.
Examples of processed meats include:
Bacon.
Hot dogs.
Meat jerkies.
Pepperoni.
Salami.
Sausage.
Some deli meats.
Research shows you need a healthy balance of omega-6s in your body. Consuming omega-3s (fats you get from foods such as salmon, walnuts and flaxseed) helps you achieve that balance. If you don't have enough omega-3s and too many omega-6s, you create a pro-inflammatory response and consistent inflammation.
Use olive oil for lower-heat cooking (it is lower in Omega-6s)
Use cooking spray to grease pans when cooking.
Research shows that refined carbs may cause inflammation in your body. "It's similar to added sugars because nothing slows their breakdown. They hit your bloodstream quickly and spike your blood sugar. And elevated blood sugar creates an inflammatory response. Whole and refined grain intakes are related to inflammatory protein concentrations in human plasma.
Instead of looking at all the foods you cannot eat, choose a different approach by thinking of all the foods you can eat! Coates says. "Focus on adding a lot of rich color to your plate in the form of different fruits and vegetables, plenty of healthy fats like avocados, nuts, beans, and quinoa.
Lipopolysaccharide (LPS)
Lipopolysaccharide (LPS), sometimes called endotoxaemia, is a well-known cause of chronic inflammation.
High levels of LPS and inflammatory cytokines were associated with Alzheimer's disease in a study of 69 patients.
Resistant starch lowered LPS, oxidative stress, and insulin resistance in a trial of 56 women with type 2 diabetes.
Inulin-like fructans increased Bifidobacterium levels was associated with lower LPS levels in a trial on 30 obese women.
Green tea polyphenols: (-)-epigallocatechin gallate (EGCG), the major green tea polyphenol, decreased lipopolysaccharide (LPS)-induced TNFα production in a dose-dependent fashion.
LPS activity and LPS binding protein were associated with obesity in two studies.
Healthy dietary choices, such as consumption of fish, fresh vegetables, and fruits and berries may be associated with positive health outcomes by reducing systemic endotoxaemia.
LPS resulted in impaired execution in the incremental loading test, which was reversed in mice on a supplemental plant-based diet, improving their immune function and maintaining skeletal muscle mitochondrial activity.
A diet rich in isoflavones reduces inflammation in mice through enrichment of healthy gut bacteria and modulation of LPS.
Adding dietary fiber (DF) to the diet of LPS-challenged piglets alleviated intestinal and systemic inflammation, improved intestinal barrier function, and ultimately alleviated the growth retardation of piglets. In addition, the addition of DF significantly increased the relative abundance of SCFA-producing bacteria and the production of SCFAs. We believe that the improvement of growth performance of piglets with LPS-induced injury can be attributed to the beneficial effects of DF on intestinal microflora and SCFAs, which reduced the inflammatory response in piglets, improving intestinal barrier function and enhancing body health.
Consumption of 400 g/day of bilberries for 8 weeks reduced LPS in a small trial of 27 participants.
Sedentary people have higher blood LPS levels than highly-trained people. Participation in a 12-week interval exercise program lowered LPS levelsin a study of 20 obese women.
Exercise for less chronic inflammation
Large population-based cohort studies consistently show an inverse association between markers of systemic inflammation and physical activity or fitness status, and data from several small-scale intervention studies support that exercise training diminishes inflammation. Regular exercise modulates the peripheral immune system, decreasing circulating inflammatory cytokines e.g. TNF-α, and IL-1β and increasing anti-inflammatory cytokines such as interleukin (IL)-10.
The progressive decline of endothelial cells is a hallmark of physiological ageing. Several animal and human experimental studies showed that chronic inflammation is one of the essential pathological processes underpinning endothelial dysfunction. In addition, a chronic low-grade inflammation, termed "inflamm-ageing", is, in fact, another feature of ageing. Inflamm-ageing is defined as a sterile and non-resolving inflammation that progressively increases with biological aging.
Harvard Health: Not only might chronic inflammation affect your heart health, but it could also lead to cognitive decline, according to a study published in the February issue of Neurology. Researchers measured inflammation in more than 12,000 middle-aged adults, assigning each a composite score using four inflammation-related biomarkers found in the blood. They then assessed the cognitive function of the participants in three separate visits over the next 20 years. They found that after adjusting for demographic and other variables, inflammation appeared to be associated with increased cognitive decline. People in the study who had higher inflammation scores experienced 7.8% greater cognitive decline when compared with study.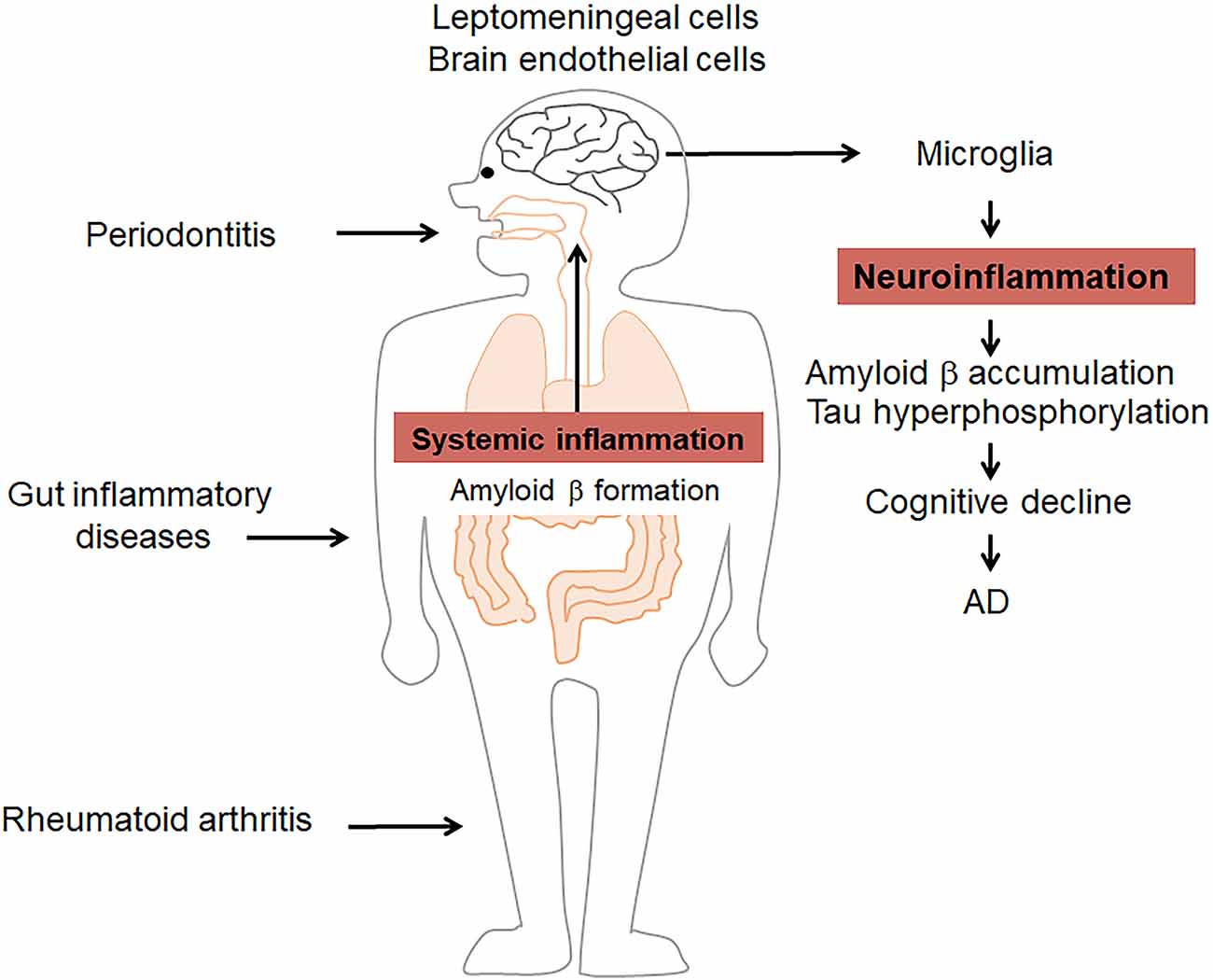 Blocking NF kappa B can reduce the inflammation that leads to a number of chronic diseases including coronary artery disease, Alzheimer's disease, osteoporosis, arthritis, and autoimmune diseases like multiple sclerosis. Turmeric contains the phytochemical curcumin, and curcumin is a particularly powerful inhibitor of NF Kappa B. Other anti-inflammatory spices are mint, rosemary, garlic, basil, ginger, fenugreek, cumin, cloves, coriander, cinnamon, black pepper, and red chili pepper.
Causes of chronic inflammation
Provoking inflammation in mice led to persistent changes in gene expression in brain microglia — even though the molecules themselves didn't enter their brains. Low levels of bacterially derived short-chain fatty acids (SCFAs) in the aged microbiota are partially to blame gut microbiome-caused inflammation. This is caused, in part, by a low-fiber diet. The continuous presence of cytokines (in indicator of inflammation) appears sufficient to inflict neuronal damage and ultimately forms the basis for age-related neurodegeneration. This is especially important for those genetically at risk for Alzheimer's.
A constant over abundance of calories may lead to increased inflammation and auto-inflammatory disease. Adipose tissue dysfunction identified in obesity and hypertension, contributes to chronic and low-grade inflammation. This blog post on obesity might help.
Signs of inflammation were seen in participants of this Italian study who ate the most ultra-processed foods. Here is another study linking ulra-processed foods with dementia.
Dr. Mike Hansen shows why fructose, commonly found in processed foods, causes inflammation in the brain. High intake of fructose can increase uric acid, proinflammatory cytokines, intestinal permeability, and lipid accumulation in the liver and induce inflammatory response in the pancreas and colon. Fructose intake has increased substantially throughout the developed world and is associated with obesity, type 2 diabetes and non-alcoholic fatty liver disease. A short-term fructose-rich diet induced mitochondrial dysfunction and oxidative stress, associated with an increased concentration of inflammatory markers in young rats.
Oxidation of arachidonic acid produces pro-inflammatory prostaglandins, leukotrienes, and thromboxanes. One of the lyso-glycerophospholipids, the other products of reactions catalyzed by phospholipase A2, is used for the synthesis of pro-inflammatory platelet-activating factor. These pro-inflammatory mediators intensify neuroinflammation. Arachidonic acid is found in poultry, animal organs and meat, fish, seafood, and eggs.
Minimize intake of antibiotics and NSAIDs: Use of antibiotics, antacids, and NSAIDs should be avoided as it could harm the microbiome in the gut causing inflammation in intestinal walls known as leaky gut which in turn releases toxins and triggers chronic, body-wide inflammation.
Here are unexpected signs of chronic inflammation.