Heart health supports health span, brain health, and vitality. Here are a few suggestions.
Eating a plant-based diet at any age may lower cardiovascular risk. People can choose among plant foods that are as close to natural as possible, not highly processed. More plant foods mean less risk. The most dangerous plaques go away within weeks on a plant-based diet.
Numerous studies have found plant-based diets, especially when rich in high quality plant foods such as whole grains, fruits, vegetables, and nuts, to be associated with lower risk of cardiovascular outcomes and intermediate risk factors.
Healthy lifestyle choices may reduce the risk of myocardial infarction by >80%, with nutrition playing a key role. Vegetarian dietary patterns reduce CVD mortality and the risk of coronary heart disease (CHD) by 40%.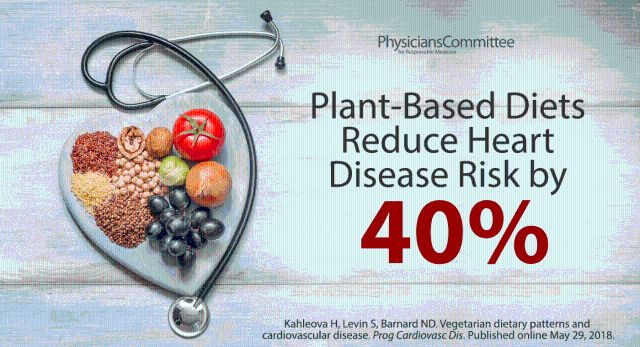 Kaiser suggests that a shift toward a plant-based diet may confer protective effects against atherosclerotic CAD by increasing endothelial protective factors in the circulation while reducing factors that are injurious to endothelial cells. Polyphenols derived from dietary plant intake have protective effects on vascular endothelial cells, possibly as antioxidants that prevent the oxidation of low-density lipoprotein.
Experts suggest that higher intakes of fruit, vegetables, whole grains, nuts, seeds, and legumes and lower intakes of saturated fat, salt, refined sugar, and processed meats may help reduce your risk of heart disease. Plant-based foods appear especially beneficial for heart health, leading some to suggest that a plant-based diet may offer significant protection against heart disease. A plant-based diet works via low saturated fat.
Saturated fat is OK in small quantities, but, as consumption increases, the risk to the heart abruptly increases.
A healthful plant-based diet can help prevent chronic obstructive pulmonary disease (COPD)
This study of 46,948 men from the Health Professionals Follow-up Study, 73,592 women from the Nurses' Health Study, and 85,515 women from the Nurses' Health Study II showed that COPD risk was 46% lower among participants with the highest quality plant-based diet.
This study of 73,228 female nurses from 1984 to 2000 and 47,026 men from 1986 to 1998 showed that high intakes of whole grains, polyunsaturated fatty acids, nuts, and long chain omega-3 fats and low intakes of red/processed meats, refined grains, and sugar sweetened drinks was associated with a lower risk of COPD in both women and men.
This study of 9701 participants showed that a high quality plant-base diet can help prevent COPD.
A plant-based diet to prevent heart disease
Started when young, A plant-based diet can prevent arterial calcification 20 years later.
Participants in this study consumed raw fruits, vegetables, seeds, and avocado. All animal products were excluded from the diet. This plant-based diet can be used as an effective therapeutic strategy in the clinical setting to mitigate cardiovascular risk factors and reduce patient drug burden.
A diet high in raw vegetables and fruits significantly reduced cardiac risk factors in 8114 participants despite an unfavorable genes.
A plant-based diet can reduce angina by 90% in 24 days, even without exercise (but do it, anyway). Here is another case study.
A plant-based diet versus atrial fibrillation.
This study of 169 healthy Chinese lacto-vegetarians and 126 healthy omnivore men aged 21-76 years shows that lacto-vegetarians had remarkably lower body mass index, systolic and diastolic blood pressure, and serum levels of triglyceride, total cholesterol, low-density lipoprotein cholesterol, apolipoprotein B, γ-glutamyl transferase, serum creatinine, uric acid, fasting blood glucose, as well as lower total cholesterol/high-density lipoprotein cholesterol ratio. Vegetarians also had higher homeostasis model assessment β cell function and insulin secretion index and thinner carotid intima-media thickness than the omnivores did.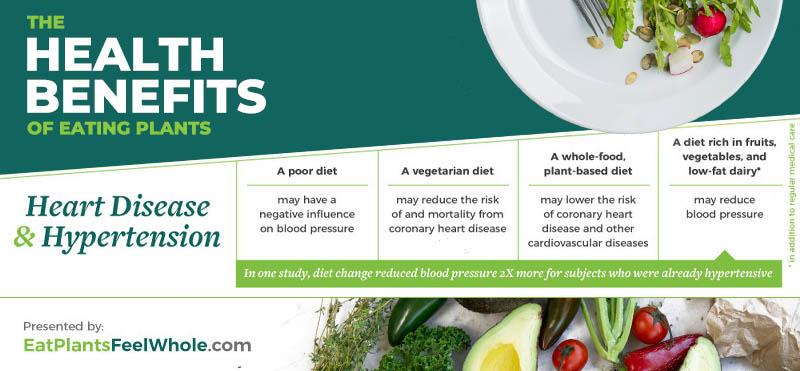 This study of 25,206 men and 34,279 women aged 40-79 years showed that intakes of plant-based foods, particularly fruit intake, were associated with reduced mortality from CVD and all causes among Japanese men and women.
This study of 34,319 women (aged 49-83 years) showed that, over 12.9 years of follow-up, that total fruit and vegetable consumption was inversely associated with the rate of heart failure.
This meta-analysis of 47 prospective cohort studies involving 1,498,909 participants showed that those eating 800 grams per day of fruit and vegetable consumption had the lowest risk of CVD.
A study of 123,330 postmenopausal women showed that higher adherence to a plant-based diet was associated with a reduction in incident cardiovascular and coronary events, as well as heart failure.
The healthfulness of a plant-base diet was shown by a systematic review of 86 cross-sectional and 10 cohort prospective studies.
Darkly colored foods feature anthocyanins.
Green leafy and cruciferous veggies provide significant cardiovascular protection – a meta-analysis.
Cruciferous veggies for lower carotid artery IMT (CCA‐IMT) and carotid plaque severity.
Plant phenols (polyphenols) have protective effects on vascular endothelial cells via scavenging free oxygen radicals, adhesion molecules, and growth factor receptor genes. When compared to calorie restriction which has been repeatedly shown to increase healthspan, these polyphenols activate similar molecular targets such as Sirt1.
A plant-based diet works via fiber to prevent heart disease.
A plant-based diet works via flavonoids to prevent heart disease.
Folate is found mainly in dark green leafy vegetables, beans, peas and nuts. Fruits rich in folate include oranges, lemons, bananas, melons and strawberries.
A plant-based diet works via folate which will reduce/break down homocysteine and protect both VLDL and LDL against oxidation.
A plant-based diet works via magnesium from leafy veggies, nuts, grains. Magnesium has awesome health benefits, as seen in this blog post.
A plant-based diet works via nitrates from leafy veggies for improved blood flow – even to the brain. This works best if one does not use antiseptic mouthwash. Inorganic nitrates added to processed meat is bad news.
A plant-based diet works via nitric oxide.
A plant-based diet for a better gut microbiome via epigenetics.
Plant carotenoids help avoid cardiovascular diseases. Epidemiological studies that strongly suggest that consumption of carotenoid-rich foods reduces the incidence of several diseases such as cancers, cardiovascular diseases, age-related macular degeneration, cataracts, diseases related to low immune function, and other degenerative diseases.
Plant sterols versus myocardial infarction via lower cholesterol.
A plant-based diet works via low chronic inflammation.
A plant-based diet versus arterial plaque, arterial stiffness.
A plant-base diet for less TMAO.
A plant-based diet versus stroke.
Beyond a quality plant-based diet, the most effective protection from heart disease is with a healthy lifestyle.
Some plant-based diets are better than others. Here is a quality diet suggested by Harvard Health.
A low-salt plant-based diet is best for heart health
This meta-analyses of cohort studies and RCTs with CVD outcomes showed that low consumption of salt and foods of animal origin, and increased intake of plant-based foods—whole grains, fruits, vegetables, legumes, and nuts—are linked with reduced atherosclerosis risk.
Dr. Brad Stanfield in this video: Observational studies get skewed by people who are already ill with CVD, who are then told by their doctors to drastically lower sodium intake. Randomized controlled trials are the only valid source of information. RCTs clearly show the benefit of lower sodium intake. Lowering sodium intake is safe. Most dietary sodium from from processed foods, which are a bad idea, anyway.
A Whole-Food, Unprocessed, Plant-Based Diet for Existing Heart Disease
A plant-based diet has reversed some symptoms of heart disease in some people. even after treatment failure.
Plant-based diets are the only dietary pattern to have shown reversal of CHD. Additionally, evidence suggests benefits of vegetarian dietary patterns in both the prevention and the treatment of heart failure and cerebrovascular disease.
Pioneering studies by Dean Ornish, MD, Caldwell Esselstyn Jr., MD, and others have shown that a low-fat, plant-based diet, combined with regular exercise and a healthy overall lifestyle, can prevent, delay, and even reverse heart disease and other cardiovascular events.
This study of 198 patient volunteers by Dr. Caldwell Esselstyn showed that those who sustained plant-based nutrition for a mean of 3.7 years experienced a low rate of subsequent cardiac events.
The Dr. Dean Ornish Lifestyle Heart Trial demonstrated that intensive lifestyle changes may lead to regression of coronary atherosclerosis after 1 year. Experimental group patients were prescribed an intensive lifestyle program that included a 10%-fat vegetarian diet, moderate aerobic exercise, stress management training, smoking cessation, and group psychosocial support. Patients were encouraged to avoid simple sugars and to emphasize the intake of complex carbohydrates and other whole foods. After 1 year, we found that experimental group participants were able to make and maintain intensive lifestyle
changes and had a 37.2% reduction in low-density lipoprotein (LDL) cholesterol levels and a 91% reduction in the frequency of anginal episodes. Average percent diameter stenosis regressed from 40.0% at baseline to 37.8% 1 year later, a change that was correlated with the degree of lifestyle change. In contrast, patients in the usual-care control group made more moderate changes in lifestyle, reduced LDL cholesterol levels by 6%, and had a 165% increase in the frequency of reported anginal episodes. Average percent diameter stenosis progressed from 42.7% to 46.1%.
A plant-based diet can clear arteries, repair lesions.
A study published in 2014 looked at 198 patients to further investigate whether eating a strict plant-based diet could stop or reverse heart disease. It found of the 177 patients who stuck to the diet, the majority reported a reduction in symptoms and 22 per cent had disease reversal confirmed by test results. But that study didn't just rule out animal products – it also cut out added oils, processed foods, sugar, refined carbohydrates, excess salt, fruit juice, avocado, and nuts. Physical activity was also encouraged and prescribed medication continued.
Free sugars (vs. sugars that are part of healthful food) can promote heart disease and stroke.