Magnesium (Mg2+) plays an important physiological role particularly in the brain, heart, and skeletal muscles. Moreover, Mg2+ supplementation has been shown to be beneficial in treatment of, among others, preeclampsia, migraine, depression, coronary artery disease, and asthma. Two doctors discuss magnesium and magnesium supplementation.
From the Mayo Clinic:
Many Americans don't get enough magnesium in their diets. Before you reach for a supplement, though, you should know that just a few servings of magnesium-rich foods a day can meet your need for this important nutrient.
Nuts, seeds, whole grains, beans, leafy vegetables, milk, yogurt and fortified foods are good sources. One ounce of almonds contains 20% of the daily magnesium an adult needs. Even water (tap, mineral or bottled) can provide magnesium. Some laxatives and antacids also contain magnesium.
Why is magnesium important? Magnesium plays many crucial roles in the body, such as supporting muscle and nerve function and energy production.
Low magnesium levels usually don't cause symptoms. However, chronically low levels can increase the risk of high blood pressure, heart disease, type 2 diabetes and osteoporosis.
Too much magnesium from foods isn't a concern for healthy adults. However, the same can't be said for supplements. High doses of magnesium from supplements or medications can cause nausea, abdominal cramping and diarrhea.
In addition, the magnesium in supplements can interact with some types of antibiotics and other medicines. Check with your doctor or pharmacist if you're considering magnesium supplements, especially if you routinely use magnesium-containing antacids or laxatives.
Low magnesium (Mg) accelerates the senescence of human endothelial cells (blood vessels) and fibroblasts.
Lack of magnesium causes insidious damage that accumulates. Magnesium is involved in a wide spectrum of vital functions, and over 600 enzymatic reactions including energy metabolism and protein synthesis. Chronic Mg deficiency results in excessive production of oxygen-derived free radicals and low grade inflammation. Aging is very often associated with Mg inadequacy and with increased incidence of many chronic diseases, with muscle loss and sarcopenia, altered immune responses, and vascular and metabolic conditions, such as atherosclerosis, diabetes and the cardiometabolic syndrome and all-cause mortality.
Medical Express: More magnesium in our daily diet leads to better brain health as we age. A 41 percent increase in magnesium intake could lead to less age-related brain shrinkage, which is associated with better cognitive function and lower risk or delayed onset of dementia in later life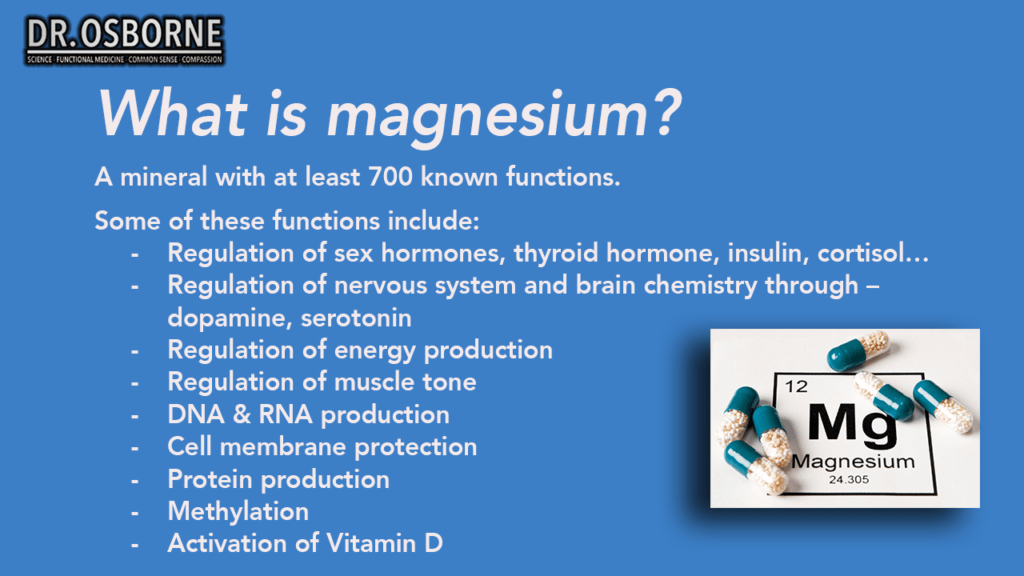 Magnesium is required for DNA and RNA synthesis, reproduction, and protein synthesis. Moreover, magnesium is essential for the regulation of muscular contraction, blood pressure, insulin metabolism, cardiac excitability, vasomotor tone, nerve transmission and neuromuscular conduction. Imbalances in magnesium status—primarily hypomagnesemia as it is seen more common than hypermagnesemia—might result in unwanted neuromuscular, cardiac or nervous disorders. Low levels of magnesium have been associated with a number of chronic diseases, such as Alzheimer's disease, insulin resistance and type-2 diabetes mellitus, hypertension, cardiovascular disease (e.g., stroke), migraine headaches, and attention deficit hyperactivity disorder (ADHD).
This study of more than 6,000 cognitively healthy participants in the United Kingdom aged 40 to 73 found people who consume more than 550 milligrams of magnesium each day have a brain age that is approximately one year younger by the time they reach 55 compared with someone with a normal magnesium intake of about 350 milligrams a day.
Deficiency in Mg, aside from having a negative impact on the energy production pathway required by mitochondria to generate ATP, also reduces the threshold antioxidant capacity of the aging organism and its resistance to free-radical damage. Mg also acts as an antioxidant against free radical damage of the mitochondria. Chronic inflammation and oxidative stress have both been identified as pathogenic factors in aging and in several age-related diseases. Chronic Mg deficiency results in excessive production of oxygen-derived free radicals and low grade inflammation.
The serum magnesium concentration is an independent correlate of muscle performance in older persons. Increasing dietary magnesium intake is associated with a reduced risk of stroke, heart failure, diabetes, and all-cause mortality.
Magnesium is essential for absorption and metabolism of vitamin D and calcium.
Magnesium malate is the most bioavailable form of magnesium. The magnesium acetyl taurate was found to have the second highest bioavailability. Magnesium acetyl taurate was rapidly absorbed, able to pass through to the brain easily, had the highest tissue concentration level in the brain, and was found to be associated with decreased anxiety indicators. Magnesium malate levels remained high for an extended period of time in the serum. The commonly prescribed dietary supplements magnesium oxide and magnesium citrate had the lowest bioavailability.